this article will teach you Google Pay UPI Pin Change Kaise Kare? In today's technology era, the trend of making online payment has increased a lot. Whether to do online shopping or to give money to someone. People are using apps like Google Pay, PhonePe and Paytm fiercely.
Using the Google Pay app is also very simple. with the help of this app money transfer in few seconds become. People also get many types of rewards for transferring money.
However, just as you have to enter the PIN in the ATM machine to withdraw money from the ATM card. Similarly, to pay someone with Google Pay, you need a PIN. Which is called UPI Pin.
The full name of UPI PIN is "Unified Payment Interface Primary Identification Number". This PIN is also the same as your ATM PIN. Everyone should keep changing their PIN from time to time. So that your account is always safe and secure.
According to Google, if a Google Pay user enters the wrong UPI PIN more than 3 times. So he will have to reset his upi pin, otherwise he will have to wait for 24 hours till the next transaction. During these 24 hours the user can neither send money nor receive money.
Many times due to our mistake, some other person knows the UPI Pin of our Google Pay. because of which we Change UPI Pin becomes mandatory. Apart from this, due to many reasons, we may have to change the PIN. So let's learn that Google Pay UPI Pin Change Kaise Kare?
How to Change Google Pay UPI Pin Change?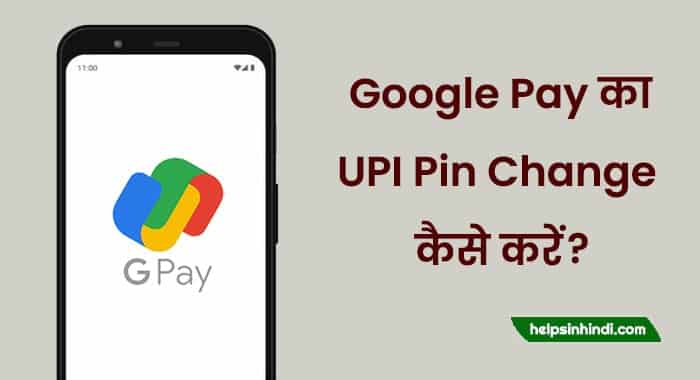 To keep your GPay account safe, everyone should know that google pay ka pin kaise change kare? How to Change GPay UPI Pin?
To change the UPI Pin of GPay, first of all, in your phone Google Pay App Open it.
Now you click on your Profile Photo appearing at the top right side.
Then select the option of Bank Account.
Now all those in front of you Bank Account The list will come. Which you have added with the Gpay app.
The bank account of which you want to change the UPI PIN. Select that bank.
Now you have to click on the 3 dot icon appearing at the top right side.
As soon as you click on the 3 dot icon, many options will come in front of you. you among them "Change UPI Pin" option has to be selected.
Now you first enter your old UPI PIN. Then "New UPI PIN" Put it Your UPI Pin will be changed.
In this way you can change the UPI Pin of Google Pay very easily. Hope you now understand that Google Pay UPI Pin Change Kaise Kare? if you still Change UPI Pin of Gpay I am facing any problem. So you can comment below.
If you have this information "Google Pay UPI Pin Change Kaise Kare" Liked it or did you get any benefit from it. So you can share this article with your friends on social media sites. Thank you,
[hurrytimer id="5163″]