Satta Matka is a prevalent form of gambling in India, dating back to when the country had just gained independence. Simply put, it is a lottery for which bettors put their money on random numbers with the hope of raking in some hefty winnings.
This article is a complete guide to Satta Matka, covering how to play this lottery online, the top Satta sites, and a few useful tips.
Best Satta Matka Sites in India 2022
How to Play Satta Matka Online
Satta Matka is an incredibly popular game in India, almost on par with betting on the top cricket tournaments. But to ace online Satta Matka play, you need to get used to the lingo used. In this section, we'll take a look at the Satta terminology.
In traditional Satta Matka, numbers marked from 0-9, written on chits, would be put into a matka – a large earthen pitcher. Then, one would draw the chits and call out the winning numbers. Over the years, the style has changed, but the 'matka' name has remained. Today, three random numbers are drawn from a pack of cards.
| TERMINOLOGY | EXPLANATION |
| --- | --- |
| Single | This is any number between 0 and 9 |
| Pair / Jodi | As the name goes, this is a pair of digits between 00 and 99. For example, 52. |
| Patti / Panna | This refers to every three-digit result (also called 'betting result') |
| Open or Close | This is how the bet outcome is divided – first one called 'open' and the other called 'closed' |
| SP (Single Patti) | For example, 123 |
| DP (Double Patti) | For example, 112 |
| TP (Triple Patti) | For example, 111 |
| Cycle Patti | This refers to the second and third digits in any patti. For example, in a single patti of 124, the cycle patti is 24 |
| Farak | The literal translation is 'difference'. In Satta Matka, farak is the difference between the open and close results. For example, suppose the pair is 36, with '3' being open and '6' being close. Here, farak = 6 – 3 = 3 |
| Berji | This refers to the last digit of the sum of both numbers forming a pair. For example, suppose the pair is 68. Here, berji = 4. Why? We add 6+8, which = 14, and berji is 4, which is the last digit of the sum (14) |
Play Online Satta Matka at Lottoland
Satta Matka is called 'Jhatka Matka' at Lottoland. It is essentially the same, so you don't need to bother with new rules.
That out of the way, let's begin.
In traditional Satta Matka games, the draws are typically 60 minutes apart. However, at Lottoland, one of India's best online lottery sites, the draws happen every 15 minutes. That means more chances to win, more often.
The game is based on a random number generator (RNG) and bidding. You need to get the lucky number to win.
How Do You Play Satta Matka at Lottoland?
First up, you need to from eight draws: Matka Raaj, Matka Ratan, Matka Satara, Matka Bombay, Matka Pune, Matka Mumbai, Matka Kalyan, and Matka Bazar.
Step 1: Pick 3 random numbers from 0-9. Suppose you pick 5, 3, and 6. To make things more interesting, the numbers are then added up to make a total (5+3+6 = 14). Then, only the last digit of the sum of these three numbers will be given to you. In this case, that is 4. Therefore, your first ticket is 5, 3, 6 * 4.
Step 2: Repeat the first step again, in the exact same way. This means you need to choose a second set of numbers. Let's say you pick 8, 2, and 8. Once again, you add them together to find the total (8+2+8 = 18). Again, you keep the last digit, i.e., 8. So, your second ticket becomes 8, 2, 8 * 8.
Below is an example card.
How to Win Satta Matka
You have different alternatives and payouts ranging from 9/1 to 999/1. You can bet on the entire range of numbers, or only the last, or turn to other betting options. Thanks to the payout multiples, Satta Matka is a gratifying game. However, you must have luck on your side.
The table below explains all the possible betting options in Satta Matka.
| BETTING OPTION | DESCRIPTION | ODDS | PAYOUT (PER ₹10) |
| --- | --- | --- | --- |
| Ank | When the final number matches either 'opening' or 'closing'. | 1:10 | ₹90 |
| Jodi | The additional two-digit number obtained from the opening and closing results. | 1:100 | ₹900 |
| Single Patti / Panna | All opening and closing numbers are unique. | 6:1000 | ₹1000 |
| Double Patti | At least two numbers are the same. | 3:1000 | ₹2000 |
| Triple Patti | At least three numbers are the same. | 1:1000 | ₹6000 |
| Half Sangam | Equals either opening three numbers and closing Ank or opening Ank and closing three numbers. | 1:1666 | ₹10,000 |
| Full Sangam | Equals opening three and closing three numbers. | 1:27777 | ₹1,20,000 |
How Do You Play Jodi?
Objective: Select any two digits between 00 and 99 and seek to match the Jodi number.
Odds = 1:100
Payout = x90
In the illustration below, the Jodi is 48.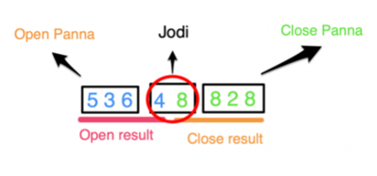 How Do You Play Single Ank?
Objective: Single Ank is probably the most popular Satta Matka betting option. Here, you have to correctly match the opening or closing Single Ank as per your selection.
Odds = 1:10
Payout = x9
Taking the same illustration as above, the winning number for Single Ank Open Patti is 4, whereas that of Single Ank Close Patti is 8.
How Do You Play Single/Double/Triple Patti?
In this Satta Matka betting option, the result depends on which numbers are present in the opening or closing panna. You will have to guess if the results will have:
All unique numbers (Single Panna)
Two identical numbers (Double Panna)
Three identical numbers (Triple Panna)
You must then predict what the three numbers will be. Since their odds are different, the payouts will vary too, going all the way up to x600.
How Do You Play Half Sangam?
Once you get used to the drill, you might want to aim higher. Half Sangam pays out at x1000, making it the second-highest in terms of potential winnings among all Satta Matka bet types.
Objective: Match either the opening three numbers and closing Single Ank, or the opening Single Ank and closing three numbers.
Odds = 1:1666
Payout = x1000
Again, taking the same illustration, the winning results are:
Opening 3 Panna and closing Single Ank (5, 3, 6 * 8)
Opening Single Ank and closing 3 Panna (8, 2, 8 * 4)

How Do You Play Full Sangam?
Objective: Simple. Just match all the numbers in their correct order, i.e. the opening followed by the closing Panna.
Odds = 1:27777
Payout = x12,000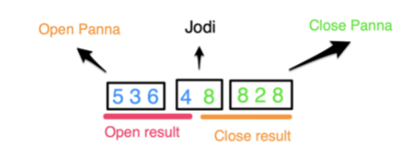 Can I Place Different Bets on The Same Draw?
Yes – with Satta Matka at Lottoland, you can. You can choose multiple bets of the same type (for instance, multiple Jodis) or different bets (for instance, one Single Ank and one Single Panna) on the same draw.
If you get them both right, you win two prizes.
Play Satta Matka at Lottoland!
Satta Matka Tips
You may come across many useful tips and tricks to win Satta Matka or any of its variants online. There could be many assurances made to you by various Satta sites as well. However, it's important to remember that this is a game that depends purely on luck. There's no skill involved. So, one can never truly predict the outcome, despite any strategy you come up with.
Playing the lottery isn't like cricket betting – with the latter, there is logic and a definite skill set deployed. You can learn how to bet on cricket. But you cannot learn how to win at Satta Matka.
Similarly, there is a science to making the best cricket prediction in the world. But if anybody were to tell you the same about lottery, rest assured they're making false promises.
So how can we help you here?
Well, frankly, we'd advise you to enjoy the game above anything else. Winning online Satta Matka isn't a certainty. That's simply because nobody can guess which set of numbers would be drawn next. And if any Satta site claims to have cracked the secret, don't bother checking. They're trying to trick you. And you're too intelligent and logical a punter for that.

That out of the way, we'll tell you just a few Satta Matka ground rules you should remember:
1. Choose Your Portal Wisely
With the increasing popularity of online lottery and lottery-format games, there are unfortunately a number of shady platforms that have also appeared. Just like choosing from the best cricket betting sites is of paramount importance before wagering on the sport, picking a legit Satta site like Lottoland or 1xBet will ensure you don't get conned by any untrustworthy .
2. Start Small
Big wins initially can make you reckless and lead to mindless gambling, which is never a wise idea, of course. If there were truly that one foolproof strategy in Satta Matka, it would be to start with small bets.
Don't take needless risks to begin with – see how things pan out first. Only when you feel more comfortable and familiar with the game should you thinking about playing with higher stakes.
3. Know When to Call It a Day
If you happen to have a streak of bad luck, don't keep betting higher amounts to get back what you've lost already. You'll only be sending yourself on a downward spiral that may be difficult to recover from.
If you are a frequent bettor, set a daily gambling budget and stick to it. It'll help keep you from chasing your losses and ending up in debt.
4. Do Your Homework
This includes understanding the Satta Matka jargon, which we have already explained above in this article, as well as knowing where to find the best Satta sites. As we already said, various websites offering online Satta Matka have mushroomed in recent years. However, not all of them can be trusted, with dubious gameplay that could be rigged. Always make sure any online betting platform you sign up with has been licensed and verified by the relevant authorities.
Payouts From Online Satta Matka
Payout rates vary from 9/1 to 999/1, depending on the Satta Matka variant you play or the Satta sites you choose. Of course, odds of 999/1 are high and desirable, and will result in massive returns. The possible combinations of numbers are also incredibly vast.
Although it is a game of chance and not skill, the payouts can still be impressive. Moreover, you don't need to wager an overly large amount to hit a jackpot – stakes can be as low as ₹300.
In any case, bookies will always want to set odds that are against the punter, be it in lottery or IPL betting.
In online Satta Matka, there's no betting agent, meaning you don't have to pay any commission on your winnings.
Satta Matka Origins
A popular gambling choice among Indian masses, Satta Matka (a.k.a. Satta King a.k.a. Matka King) dates back to the 1950s.
Back in the day, Satta Matka was a type of lottery where gamblers bet on the opening and closing numbers of cotton rates transmitted from the New York Cotton Exchange to the Bombay Cotton Exchange.
Back in the 1950s, this game was known as 'Ankada Jugar'. In 1961, the New York Cotton Exchange applied the brakes on this game, and punters were compelled to look for alternatives.
It was Rattan Khatri, one of the first (probably self-proclaimed) Matka Kings, who introduced this idea of betting on imaginary products' opening and closing rates. After all, how could anybody stop something fictitious, right? And the whole objective wasn't as much about cotton rates as it was about betting on random numbers.
In this new variant, where there was nothing official at stake, random numbers would be written down on pieces of paper and then thrown into a pot (matka). One person would then draw the numbers and call them out aloud.
With time, the style changed, and the earthen pot was done away with. Instead, numbers were drawn from a deck of playing cards. However, the name 'matka' was retained.
The game evolved and became popular from the 80s to the 90s. Today, thanks to the evolution of the internet, we have online Satta Matka play. Satta sites like Lottoland and 1xBet have become huge favourites, offering engaging and innovative gameplay while keeping same essence as the original lottery.
Satta Matka FAQs
What is Satta Matka?
Satta Matka is one of India's most famous lotteries, and has been played for more than 70 years now, albeit in different forms. The game first started during the 1950s, just a few years after India gained independence. It has now moved online.
What are some of the best Satta sites?
Off the cuff, we'd say Lottoland and 1xBet. That said, there could be other Satta sites on your radar. Only trust a betting site if you have enough reason to believe they're safe and legitimate.
Is Satta Matka legal?
Indian gambling laws are convoluted. Really convoluted. So it's no surprise to see readers constantly asking us about the laws surrounding online betting in India.
On paper, gambling in India is illegal, as decreed by the Public Gambling Act, 1867.
However, there's a distinction between games of skill vs games of luck. The former is considered perfectly legal, and is so stated expressly in the Gambling Act. Lotteries and horse racing are also legitimate and kept out of the ambit of the confusing laws that are there in the country.
But here is the thing. There's nothing stated categorically about online betting/gambling and its legitimacy in India. That's precisely why the country is a vast market and one of the biggest revenue earners for bookmakers.
All in all, you can safely play online Satta Matka. We don't know whether it is legal or not (and honestly, we cannot comment further since we aren't legal experts). But, that said, you can rest assured about safety. No authority has ever cracked down on online betting in the country.
Play Satta Matka at Lottoland!
CricketBettingAdvice Final Say
Be mindful and have fun. Any form of gambling – no matter matter if it is the lottery, football betting, or kabaddi betting – should only ever be considered as a bit of entertainment. Keep your stakes small so that you can stick to your budget. Play whatever numbers you like, and never chase your losses. Ever.
If you win, brilliant! Enjoy it – just remember it's important to know when to stop. Collect your winnings, treat yourself, and go back another day for another session of online Satta Matka.